I don't like talking about myself much. I'm not a woodworker or an artist, just a person in selfless-service to people and nature.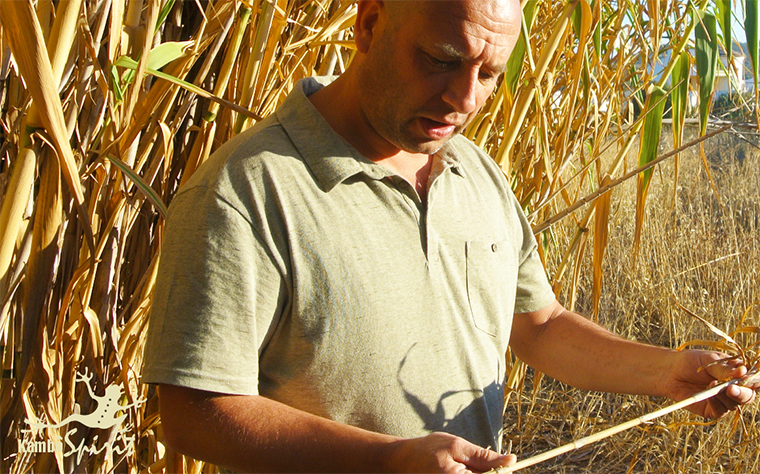 Why did I start making pipes? Here you go... My uncle is a geologist who worked in the jungles of Peru. In the early 1980's he married a Peruvian lady who became my aunty. They exported Peruvian crafts to help the family and gave me gifts which I found fascinating. At a young age I learned about a sacred vine that gives you visions and this sparked a deep interest and desire to visit South America. Thank you. I studied and developed a knowledge of indigenous cultures and the use of ethnobotanical plants and this lead me to travelling to the steaming Amazon jungle and to work with the tribal peoples to learn about plant medicines. In 2011 I was humbly called to work with a beautiful little frog called Kambo and an incredible journey, began. Today, I am a Kambo Practitioner and share the use pipes in my practice.  I've watched tribal people work with rapé and pipes and felt the incredible energy transmitted and feel I wanted to retain this tradition and make available a hand made, personal tool that combined a perfect synergy of the natural elements Fire, Earth, Water, Metal, Wood to enable the transference of Spirit. A sort of natural, magical alchemy.

One day, whilst sitting with some Yawanawa Rapé a thought came to me...

Earth: Gaia the element from which the wood grows
Wood: The reed the pipe is made from
Metal: The knife I use to cut and shape the wood and the Silver thread that wraps the Tepi
Water: The liquid I use to stain the pipe
Fire: The flame I use to bless the tips of the pipe and Palo Santo smoke I use to cleanse and protect it before shipping
Spirit: The breath of the person that blows the spirit of Rapé

And so in 2017 my apprenticeship began. After just over a year and lots of wood chippings and dust I started crafting pipes that felt good enough to pass on to friends and it just grew from there.

When making a pipe I don't just use any wood. It has to be from a special reed with specific straightness, thickness, core diameter, length and feel. There are many types of hardwood reeds but for the useful pipe wood...there is only one.

It's hard work making a pipe and I get sore hands and cuts from doing it. I don't use power tools and to some extent it's a denial of consumerism which coincides with my personal attitude. The western world is overflowing with mass production and its becoming rare to hold something that's truly handmade.

The wood is cut in length and angles by feel and the eye, never measured. The outer covering is slowly, slowly removed by sharp knife. One removed the pipe is sanded to the correct texture. You can always see traces of knife marks on the wood, I like to leave these, they give a pipe personality.

A pipe takes many hours to make because it's slow doing it by hand. As I say, no power tools are used just simple hand tools a knife and sand paper.

Each pipe has two parts which must perfectly fit together. I use a natural glue resin that takes overnight to set.

Each pipe is tuned over a period of hours until the breath effortless flows through and the pipe awakens. Each pipe sounds different as the breath flows through and I like to listen to the voice to hear when they are complete. Some roar like Jaguar, some hiss like a Snake, some vibrate like the wings of a Hummingbird and some sound like the wind being pushed by the wings of a Condor. When the tuning stage is complete the pipe works as a harmonic conduit and has what I call the Shaman's Breath.

Each pipe is carefully stained using Dragon's Blood a deep, bright red liquid resin from a tree that grows in the Amazon. Dragons' blood is a powerhouse against negativity and through its ability to increase frequency, it amplifies the potency of a pipe.

The pipe is then wrapped in a natural cotton. I wrap the Tepi with cotton and 925 silver thread.

Once wrapped I bless the pipe with a flame at each end and blow through Palo Santo smoke which cleanses and protects ready for you to use.

The most important thing in making a pipe for me is the harmony between the elements, materials used, shape, sound and balance in the hand. I don't just want to make a pipe. I want to create a composition of meaning from all these elements that is fit for you to experience the magical power of sacred snuff. My pipes are minimalistic, simple and raw with energy.

I don't have stock of pipes. When a person makes an order, I read the name and sit and think. I sift through my wood until a piece feels right and I start to work slowly crafting the pipe with intention in an individual way for that person. This is crucial to me. Your pipe is personal tool and I respect this. To be honest, in a humble way I feel I'm just passing on pipes to their rightful owners. It's with gratitude I do this. So, sometimes pipes arrive a little later than expected, now you know why :)

I hope you enjoy using your pipe as much as I do making them.

In peace, love and service.

KS.